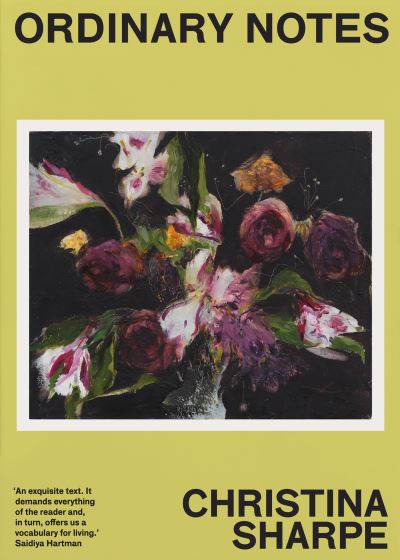 Ordinary Notes
£14.99
A singular achievement, Christina Sharpe's Ordinary Notes explores, with immense care, profound questions about loss, pain and beauty; private memory and public monument; art; complexity; and the shapes of Black life that emerge in the wake. In a series of 248 brief and urgent notes that cumulatively gather meaning, artifacts from the past – both public ones and the poignantly personal – are skilfully interwoven with present-day realities and possible futures, intricately constructing an immersive portrait of everyday Black existence.
Available to be ordered.
This title is not currently on our shelves, but can be ordered for you – either for home delivery or collection from the shop. This usually just takes a day or two, but we will confirm the expected timeframe when an order is placed.
If you would like us to check availability before you order just contact us here.

Additional information
| | |
| --- | --- |
| Dimensions | 15.9 × 22.2 cm |
| Author | |
| Publisher | |
| Imprint | |
| Cover | |
| Pages | |
| Language | |
| Edition | |
| Dewey | |
| Readership | |